0 Comments
Saturday, June 15, 2013
| by
admin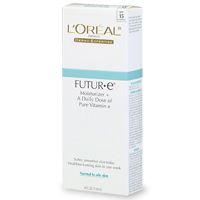 A great moisturizer will absorb quickly, protect against sun damage, have anti-aging benefits, and leave skin soft and supple. Loreal's Futur-e moisturizer appears to be the holy grail of moisturizers that achieves all these requirements. Futur-e promises to hydrate skin, contains SPF 15, and packs a dose of pure vitamin E to maintain healthy, youthful skin. Vitamin E is a popular anti-oxidant that repairs tissue and cellular damage due to UV rays, pollution, and free radicals making it a popular anti-aging ingredient. Vitamin E is also believed to reduce fine lines and wrinkles, and to strengthen the skin's natural moisture loss barrier. Along with vitamin E, this moisturizer also contains beta-hydroxy acid (BHA), which also helps protect against sun damage.
Besides its helpful ingredients, Futur-e does absorb quickly and is fragrance-free. However, those with sensitive skins should test this lotion out on a small patch of skin before integrating it into regular use as it does tingle slightly when first applied, particularly around sensitive skin areas, such as the eyes. The price of the Futur-e is great for its benefits and provided ample moisture all day long. However, the greatest turn-off about this product is its packaging. Moisturizers should come in an easy to dispense bottle and this moisturizer certainly does not. The pump often squirts erratically, and it is hard to get a consistent amount out of the bottle - sometimes you get a little dab and more often you get a shooting squirt. Also, the lotion is a somewhat unattractive yellowish color. The dispensing actions of this moisturizer make the experience of using it very frustrating and unappealing; as such I probably wouldn't buy this product again. Instead, I would recommend the Neutrogena Moisture with SPF 15 which has similar benefits, but a much handier dispenser.
Final Verdict: good price, great ingredients, horrible packaging.
Labels: Beauty, Product Reviews