0 Comments
Monday, June 3, 2013
| by
admin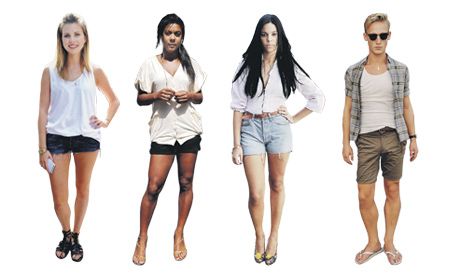 As the temperatures creep upwards and the sun rises ever higher in the skies, women everywhere begin to feel the first twinges of an instinctual need for the three key summer essentials: a bathing suit, sunglasses, and shorts. Nothing but the most perfect fitting shorts will do. I myself have been on the hunt for the perfect jean shorts for the past two summer seasons without satisfaction! Shorts this season come in all lengths, colors, and styles, so there is sure to be something to satisfy all. However, as a person of "small stature", I'm not too keen on the high-waisted and Bermuda length trends. Bermuda shorts can be pretty, but I feel they are too matronly, especially the ones that come in olive green and have a sharp crease! As well, they also cut off your legs at their most unflattering point: smack-dab at the knee, highlighting thick calves and knobby knees. As for extreme high-waists, they are too trendy to last longer than a couple seasons at most and worse yet, they chop off your torso, making a short person shorter.
The only solution for a short woman then is to buy short shorts. We short ladies can get away with shorter lengths than our taller sisters and a shorter leg only makes our legs look longer. However, be careful of treading into "booty short" territory, so choose a pair with a couple inches of inseam. If you've got a flat butt, choose ones with flap pockets to create curves, and cuffs will always look classic and chic. Also, experiment this season with different materials, like the sateen shorts shown below to make your shorts work from day to night.
Overall, shorts are no longer just for the beach, but can be worn from the office to the club. Like a great pair of jeans, the perfect shorts can be worn season to season, so invest wisely and you'll be happy for many a summer to come.