0 Comments
Monday, June 24, 2013
| by
admin
Beauty products are usually divided between two camps: the scientific, and the naturopathic. For those erring on the more scientific spectrum of beauty, B. Kamins is the line for you. Founded by Canadian scientist Ben Kaminsky, B. Kamins seeks to "bridge the gap between the physicians office and traditional cosmetics treatments". In particular, the line is aimed directly to treat those with skin conditions like eczema, rosacea, and dry skin; however, their products may also be used by those not affected. B. Kamins prides itself on producing products of the highest quality and standards, with the credibility of science to prove the effectiveness of their ingredients.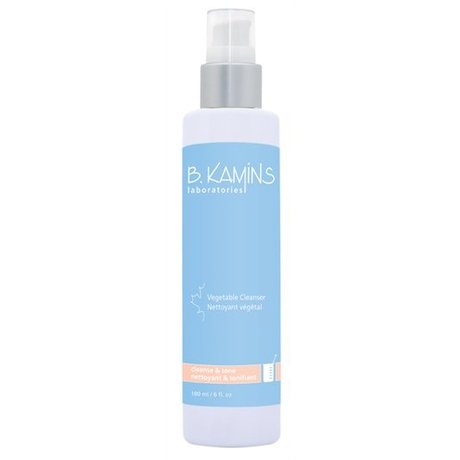 B. Kamins Vegetable Skin Cleanser
The Vegetable Skin Cleanser features one of B. Kamins star ingredients: Bio Maple. Bio Maple is a pure compound extracted from the sap of maple trees and is believed to do three key things:
Rehydrate and repair skin damaged by environmental stresses and the effects of aging.
Exfoliate with its mixture of AHA and antioxidants to reveal fresher, new skin.
Cleanse gently by maintaining a pH level similar to the skin's natural pH. Maintaining the proper pH balance of the skin helps to combat and prevent bacteria, which can cause breakouts.
Besides Bio Maple, this cleanser also contains a veritable salad of powerful, yet gentle, cleansing agents such as almond, soy, and corn, which are just a few of the major ingredients.
B. Kamins Vegetable Skin Cleanser
Upon using this product, my first complaint with this cleanser is its dispenser. I am really beginning to hate pump dispensers. As with other pump dispensers, this one is ridiculously stingy! To wash my tiny nose alone, it required at least 3 pumps. Perhaps this is a problem with the size of my bottle (2 fl.oz) and the regular size (8 fl. oz) would have a properly working pump - however, that's not my problem and all theirs. For shame on the package engineers working at B. Kamins! My second complaint is more of a discomfort as I am utterly unused to a non-foaming cleanser. Foaming cleansers are certainly the norm on the market, but for those with sensitive/dry or mature skin, non-foaming cleansers are actually the way to go as the foam leeches out moisture while it washes. The Veggie cleanser slicks on like oil and foams about as much, but it does seem to cleanse effectively. Post-wash my skin felt fresh with little residue (as tested by my toner-soaked cotton ball) and felt slightly soft, without that stretched, just cleaned, feel. I also smelt faintly of celery.
Final Verdict: this product is great for those looking for a gentle, yet thorough approach. Definitely worth the price.
Labels: Beauty, Product Reviews